This week sees the launch of
Road Safety Week
, organised by charity
Brake
in order to promote awareness of being safe on the roads. The theme for this year is
'Kids say slow down'
, and involves thousands of participants from schools, companies, emergency services and community groups.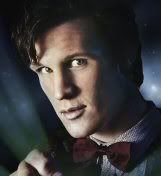 As part of this week, a poll was undertaken by
Kwik-Fit Insurance
to see which celebrity children would most like to see as their local lollipop man/woman. Some 3000 children were surveyed between the age of seven and fourteen, of which
27%
were in favour of
The Doctor
supervising their crossing of the road!
The runners-up were singer
Cheryl Cole
(21%), official
Children in Need
record singers
JLS
(12%), and footballer
David Beckham
(also 12%).
Managing Director of Kwik-Fit Insurance, Brendan Devine, said:
The competition is all about celebrating lollipop people and the work they do in keeping our young people safe as they cross the road, and it was interesting to see which famous face was the most popular choice for this important job.
This isn't the first time the Doctor has been associated with road safety, of course; back in 1976
Jon Pertwee
featured in the
Splink!
road safety campaign for the
Green Cross
Code (you can watch the advert and read all about it on the
BBC News site
).