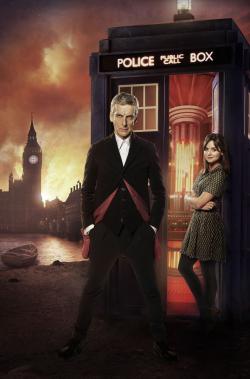 Having already been
reported
as the best performing episode on Canadian channel
SPACE
this year,
BellMedia
have now
announced
that new series premiere
Deep Breath
has become the second-most watched broadcast on the channel of all time - beaten only by another episode of
Doctor Who
, the 50th Anniversary special
The Day of the Doctor
.
The final number are in: Space confirms its Season 8 premiere of
DOCTOR WHO
on Aug. 23 drew an average of more than 1 million viewers, giving the series its highest-ever audience for a regular season episode.
Peter Capaldi
's debut,
"Deep Breath,"
was the second most-watched Space broadcast ever, behind the DOCTOR WHO 50th anniversary special,
"The Day of the Doctor"
, last November. In fact, it is the fourth-ranked specialty airing this broadcast-year-to-date for total viewers among all Canadian entertainment specialty channels. Audiences for the Season 8 premiere are up nearly 40% compared to the Season 7B premiere.
Leading into the Season 8 premiere, a special episode of INNERSPACE drew an average of 747,300 viewers during its 8 p.m. ET broadcast, making it the most-watched episode ever for Space's flagship entertainment news program.