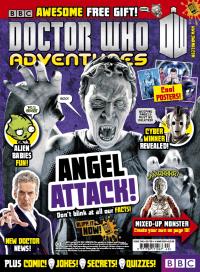 Doctor Who Adventures
readers are being invited to design a mixed-up monster in the latest edition of the fortnightly magazine.
Editor
Moray Laing
said:
We want to know what readers think would make the ultimate creature made up from other monster parts. Would the scariest design have the head of an Angel, legs of a Cyberman and arms of a Zygon? We want to know, and can't wait to see what readers come up with!
As well as news, posters and puzzles, issue 340 of DWA comes with a free make-your-own wind-up Angel kit, plus:
Essential facts about the Weeping Angels
Pictures of Peter Capaldi and Jenna Coleman filming in Cardiff
A time-travelling quiz - find out if you are more likely to travel to the past or future
15 mega monster secrets - the truth behind the beasts
Win Doctor Who playsets and Lego Movie goodies
A comic strip featuring an unseen adventure with the Eleventh Doctor and Clara - use the free Blippar app to bring the comic strip to life
Use Blippar for more Weeping Angel scares, too
The new issue of DWA is out now and available until Tuesday 11th March.