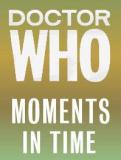 The latest in our ongoing features on special moments within Doctor Who sees the show undergo a major transformation . . .
As five million viewers watched the second Doctor spiral away towards his exile, little did they realise that it would be over six months before they would be able to enjoy the Doctor's travels once more. Changes in BBC broadcasting were afoot; the show had already been using the new 625 line standards since
The Enemy of The World
, and now the BBC was to commence a full colour service from November 1969. As
Doctor Who
would be made in this way, the series itself would be effectively delayed to both enable the transition and also provide something familiar to herald in the new year - though this led to its biggest break off air since the show's beginning in 1963.
Behind the scenes, co-producers
Derrick Sherwin
and
Peter Bryant
had implemented several changes to the format of the show, with their UNIT organisation introduced in
The Invasion
coming to the fore and how the Doctor would become the Brigadier's leading expert on
"the odd, the unexplained, anything on Earth, or even beyond."
However, diminishing ratings, the general audience reaction to the sixth season, and the departure of lead actor
Patrick Troughton
had put the show at risk, though without a suitable replacement programme the seventh season was commissioned with a new Doctor in the form of
Jon Pertwee
.
Fears for the show's continuation proved unfounded, however, as when the new series started 44 years ago today, some 8.4 million viewers tuned in to watch the new Doctor arrive on Earth and assist UNIT in thwarting the
Spearhead From Space
, and the overall audience appreciation of his adventures with Autons, earth reptiles, alien paranoia and an alternative Britain over the next 25 weeks were strong enough to ensure the Doctor's adventures would be safe for another 15 years . . .
And so our
Moment in Time
today is the arrival of the new, colourful series of
Doctor Who
!