Members of the BBC's Radiophonic Workshop will be performing live at the weekend to mark Doctor Who's 50th anniversary.
Fresh from their recent appearance at Portmeirion's Festival No 6,
Dick Mills
,
Paddy Kingsland
,
Peter Howell
,
Roger Limb
, and
Mark Ayres
will be performing a 75-minute set at the
London Electronic Arts Festival
in Shoreditch on
Saturday 9th November
at
2pm
.
The Radiophonic Workshop's most famous piece of work was undoubtedly the Doctor Who theme, realised by
Delia Derbyshire
from a composition by
Ron Grainer
, and the Workshop also created countless special sounds for the series during its classic era.
The concert, at the Shoreditch Electric Light Station in Coronet Street, will not only include music ranging from Doctor Who to The Hitchhiker's Guide to the Galaxy, it will also feature archive video from Doctor Who and many other programmes for which the Workshop provided sound design and music. It will be a 5.1 surround sound show and will feature
The Doctor Who Suite
- part of which will bring Derbyshire's original 1963 theme together with Howell's 1980 reimagining of it in one 15-minute presentation.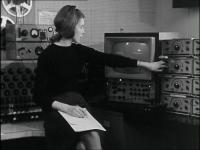 It coincides with the start of a comprehensive reissue programme of the entire Radiophonic Workshop back catalogue. These will initially be on 180g audiophile vinyl in restored original artwork and audio remastered from original tapes by Ayres, and will be issued on the Music On Vinyl label, to be followed by digital and CD releases and a new compilation of Radiophonic material from the vaults.
BBC Radiophonic Music
and
BBC Radiophonic Workshop
will be rereleased on
Monday 25th November
, with the former available to pre-order
here
and the latter
here
.
BBC Radiophonic Music
- originally put out in 1968 as a specialist demonstration library disc for BBC drama producers - was released commercially in 1971.
BBC Radiophonic Workshop
was originally released in 1975 and was a compilation of the Workshop's output to date. Both showcase the dawning of processed sound, treated sounds, and sound design.
They will be followed in the new year by the albums
4th Dimension
and
Through A Glass Darkly
.
In addition, Kingsland, Limb, Mills, Howell, and Ayres are working with White Noise's
David Vorhaus
on a new album of Radiophonic material set for release next year on a major label. This will feature collaborations with a number of key figures in contemporary electronica, all of whom have been influenced by the Workshop down the years.
The Workshop will also be putting out very limited issues of rare and unreleased tracks from the archives, including some rare Doctor Who moments and a remixed and reimagined version of the original Doctor Who theme realised by Derbyshire. This has been produced from her original tapes and will be the first stereo version of the track to appear.
A 2,500-word Workshop retrospective by
Joe Muggs
is due to be published in
The Observer
on
Sunday 24th November
.
The Radiophonic Workshop was formed in 1958 and was based in BBC studios at Maida Vale in London. It closed in 1998 but during its lifetime had an inestimable influence on musicians and sound engineers, and was described by electronic dance music publication
Mixmag
in 1997 as "the unsung heroes of electronica". On 17th May 2009, Radiophonic Workshop musicians played live for the first time when they gave a concert at the Camden Roundhouse as part of the Short Circuit festival.