Overwhelming demand for events in the BFI's
Doctor Who At 50
celebratory season has led to a rethink on ticket allocation.
As part of the season, the organisation is showing one story per Doctor per month with an accompanying guest panel, and all events so far have sold out to members - who get priority booking - immediately after being made available to them, which has led to huge numbers of fans who are not members missing out and being left disappointed.
As a result, the BFI is introducing a ticket ballot system for May's screening onwards.
The Caves of Androzani
, which marked the end of the Fifth Doctor's era, is being shown on
Saturday 4th May
at
2pm
, and seats are being restricted to
two per buyer
, with a ballot also being run to try to ensure the fairest possible allocation.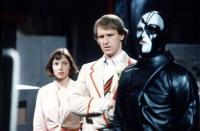 BFI Champions
can apply from
Monday 1st April
and
BFI Members
from
Tuesday 2nd April
. They will be able to apply via
e-mail
up to
8.30pm
on
Friday 5th April
saying how many seats they would like, but will only be allowed a
maximum of two
. These will then be allocated by ballot, and not on a first-come first-served basis.
Ticket applicants can ask for specific seat numbers in their e-mail and the BFI says it will do its best to meet those requests. If applicants are happy to sit elsewhere in the auditorium if their choice is unavailable they should state this in their application and the BFI will try to seat them as near as possible to where they wanted to be. If people only want their specified seats or are happy to be seated anywhere in the auditorium they are similarly asked to state this in their application.
Any tickets that are left over following the ballot plus about 25 set aside for the public will then go on release to non-members on
Tuesday 9th April
when, again, purchasers will be restricted to
two seats each
.
As in the past, returns and stand-bys are also always a possibility once an event has sold out, so keep checking back with the BFI.