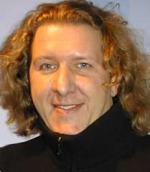 Current costume designer
Howard Burden
will be giving a talk about his work later this month.
He will be at the BFI in London on
Wednesday 20th February
for an afternoon seminar entitled
Designing For Science-Fiction
, which will examine
"how various screen craft disciplines work to realise fantastical science-fiction visions."
The event - the first in a new series looking at what it takes to succeed as a designer in the film and TV industries - is being presented in association with
Wimbledon College of Art
.
Burden has been the costume designer on Doctor Who since
Asylum of the Daleks
. His sci-fi pedigree also includes working on
Red Dwarf
from series three onwards as well as on the 1998 six-part series
Invasion: Earth
, which was a BBC Scotland/Sci-Fi Channel co-production.