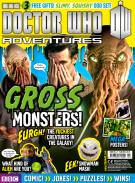 Issue number 301 of
Doctor Who Adventures
- out today - has a distinctly slimy feel to it!
The magazine's free gift is Ood slime, eyes, and brain - plus the publication takes a look at the yuckiest monsters the Doctor has ever had to face.
Also in issue 301 are:
A Snowman mask
An alien quiz
Posters
A new comic adventure with the Doctor and Decky Flamboon
Monster puzzles
An alien fact file
The publication is also available as an app from the App Stores in the
UK
and
USA
.