Big Finish
have released details about their new adventure for the Eighth Doctor, as played by
Paul McGann
: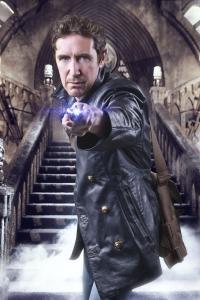 "We have a long history of adventures with the Eighth Doctor,"
says writer/director
Nicholas Briggs
,
"and we'd just got to the end of four years' worth of adventures with Sheridan Smith as Lucie Miller. So, I wanted to create a fresh start for Paul McGann and our listeners. It's a real jumping-on point where the Doctor is embroiled in a whole new, gigantic adventure. You can listen to this without ever having heard an Eighth Doctor audio drama before and understand every word and nuance. Of course, if you want to go back and find out what happened before, you can always do that too."
Dark Eyes
introduces a new companion for the Eighth Doctor in the form of Molly O'Sullivan, played by
Ruth Bradley
, a volunteer nurse who he meets in France during the First World War.
"I wanted there to be a new companion who had something different to offer,"
Nick continues.
"Someone mentioned that there'd never been an Irish companion in the TARDIS and I was already thinking of making her someone who was involved in the First World War, so the two things came together to make something rather unique in the form of Molly O'Sullivan. She's a girl who's seen and experienced the most terrible, harrowing things, so she's no innocent and she's not really a willing participant in the Doctor's adventures. Also, she is the 'Dark Eyes' of the title, so the adventure is all about her relationship with the Doctor."
Dark Eyes
also showcases a new costume for Paul McGann's Doctor, which was designed and made by
WETA Workshop
.
"That's something that Paul McGann worked out with an great Australian guy called William Geradts who organises conventions Down Under,"
Nick explains.
"He and Paul got chatting about creating a new image for the Eighth Doctor and Bill got WETA to make it for him. Paul loved it and came to us, asking if we'd be prepared to use it. Since the Eighth Doctor had had so many adventures with us, and it seemed odd that he'd keep that Wild Bill Hickok costume on for so long, we thought it was high time for a change. Our Doctors show so much loyalty, continuing to work with us over the years, so we're always happy to incorporate their ideas and this was one we were very keen to embrace. We sent the images to the BBC, they approved them, so off we went! It's a brave new era with a great new look."
As mentioned above, McGann is joined by
Ruth Bradley
, who recently appeared in the mini-series
Titanic
(which also co-starred
Jenna-Louise Coleman
) and is known in sci-fi circles for her role as Emily Merchant in
Primeval
.
Peter Egan
plays Straxas: the actor is about to appear in
Downton Abbey
this Christmas, but is probably best known from
Ever Decreasing Circles
; for
Big Finish
he previously played Moloch in
Protect and Survive
.
Toby Jones
plays Kotris: the actor's
Doctor Who
credentials include playing the Doctor himself - aka the Dream Lord - in 2010's series episode
Amy's Choice
; other credits include playing Dobby in the
Harry Potter
films, and also appearing in
Titanic
alongside Bradley.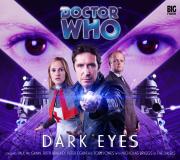 Dark Eyes
(available to order)
by Nicholas Briggs
starring Paul McGann, Ruth Bradley and Peter Egan
'I really hoped it would be a wonderful view... to look back from the end of everything... to see how things finally turned out.'
The Doctor is looking for hope. But instead, he finds himself on a mission. The Time Lords have uncovered terrifying fragments of an insane plot to destroy the universe. And somehow, at the centre of that plot is one, random female in Earth's history, Molly O'Sullivan.
Soon, the Doctor and Molly find themselves thrown headlong into a series of dangerous and terrifying adventures, with the dreaded Daleks never far behind them.