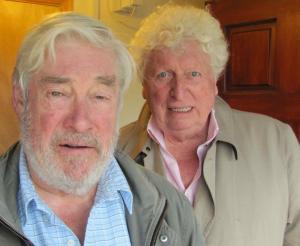 Big Finish
have announced that
Tom Baker
and
Louise Jameson
will reprise their roles for a new eight episode season of
Doctor Who
adventures as the Doctor and Leela, to be released from
January 2014
.
Executive Producer
Nicholas Briggs
said:
We've been delighted by the response to the first season of our Fourth Doctor stories. We had such an exciting and rewarding time making series one and two, and we're just thrilled to be back in the studio again with Tom and Louise recording more.
Of course, the second series – which features
Mary Tamm
as Romana, with
John Leeson
as the voice of K9 – won't be released until January 2013. But, recording schedules being what they are, we are always working well ahead.
Producer
David Richardson
added:
We began recording on series three on 9th May, and production will continue through until July. At the moment it's too early to reveal many story details, but we can say that
Geoffrey Beevers
will again return as the Master, the travellers will discover what lurks in the dead of night and the Doctor will encounter an even deadlier version of an old foe.
The series will also feature the titular
Blake's Seven
actor
Gareth Thomas
(pictured)
in one episode, playing the last surviving member of the Colophon race; the story also features
The Greatest Show in the Galaxy
star
Jessica Martin
.
The Fourth Doctor Adventures: Series Three
is now available for
pre-order by subscription
from Big Finish.
---
This June sees the finale of the first series released:
The Oseidon Adventure
(available for pre-order)
By Alan Barnes
Directed by Nicholas Briggs
Starring Tom Baker, Louise Jameson and Geoffrey Beevers, with Dan Starkey, Michael Cochrane and John Banks
Release date: June 2012

The first time the fearsome Kraals attempted to take over the Earth, with the help of their android agents, things didn't go quite according to plan – thanks to the time-travelling alien Doctor and his allies at UNIT.
This time, Marshal Grinmal and his belligerent cohorts are ready for them. This time, they'll make no mistakes. This time, Chief Scientist Tyngworg has not just one plan, but a back-up plan, and a back-up back-up plan worked out...
With the Doctor a prisoner on the Kraals' radiation-blasted home planet of Oseidon, only his companion Leela can save the day – alongside a most unlikely ally.