Big Finish
have announced the release of three new stories in their ongoing series of adventures for the Doctor:
Energy of the Daleks
- the fourth story in the audio series starring
Tom Baker
and
Louise Jameson
- sees the Doctor pitted against a familiar foe, one Leela is about to meet for the first time;
The Emerald Tiger
sees the Fifth Doctor, Tegan, Nyssa and Turlough together again for a new 'mini-season', kicking off with a visit to Calcutta; and
William Russell
reprises his role as Ian Chesteron for the latest
Companion Chronicle
,
The Wanderer
, as the original TARDIS crew journeys to 19th Century Siberia ...
Energy of the Daleks
By Nicholas Briggs
(order)
The Doctor and Leela find themselves in the middle of London at the time of a new energy crisis. The GlobeSphere Corporation seems to have all the answers – but several thousand protestors beg to differ.
What is the connection between the National Gallery and a base on the Moon? Has radical thinker Damien Stephens simply sold out, or does he have a more sinister agenda?
The Doctor has detected a mysterious energy reading. Could it be that the most evil creatures in the universe have returned to claim ultimate victory once and for all?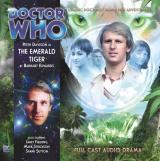 The Emerald Tiger
By Barnaby Edwards
(order)
Tiger, tiger, burning bright
In the forests of the night
Calcutta, 1926. The Doctor and his companions join an expedition to locate the fabled emerald tiger – a legendary marvel shrouded in myth and mystery. They must journey to an unexplored lost world filled with wonder and wickedness.
But at the centre of this terra incognita, something is stirring. Something with emerald eyes, diamond-sharp claws and a heart of darkness.
The Wanderer
By Richard Dinnick
(order)
Siberia at the end of the 19th Century, and the TARDIS arrives just as a shooting star hurtles to the ground.
With it comes an illness that affects the Doctor and Susan, and knowledge that must not fall into the wrong hands.
With his friends either dying or lost, Ian Chesterton must save the future and win the ultimate prize – a way home to 1963...
All three stories are available on CD, and for download from the
Big Finish
website.
---
Big Finish will also be running a special five-day promotion on a number of their early
Doctor Who
adventures, with ten titles available on each consecutive day. Each story will be available to buy for £5.00 on either CD or via download from
their website
.
23rd April - The Sirens of Time, Phantasmagoria, Whispers of Terror, The Land of the Dead, The Fearmonger, The Marian Conspiracy, The Genocide Machine, Red Dawn, The Spectre of Lanyon Moor, Winter for the Adept
24th April –The Apocalypse Element, The Fires of Vulcan, The Shadow of the Scourge, The Holy
Terror, The Mutant Phase, Storm Warning, Sword of Orion, The Stones of Venice, Minuet in Hell, Loups-Garoux.
25th April - Dust Breeding, Bloodtide, Project: Twilight, The Eye of the Scorpion, Colditz, Primeval, The One Doctor, Invaders from Mars, The Chimes of Midnight, Seasons of Fear
26th April - Embrace the Darkness, The Time of the Daleks, Neverland, Spare Parts, ...Ish, The Rapture, The Sandman, The Church and the Crown, Bang-Bang-A-Boom!, Jubilee
27th April - Nekromanteia, The Dark Flame, The Pirates, Creatures of Beauty, Project: Lazarus, Flip-Flop, Omega, Davros, Master, Zagreus