AudioGo

The Doctor is well and truly in the dark in two May releases from
AudioGO
.
The classic-era audio release
Doctor Who: The Sensorites
, which was novelised by
Nigel Robinson
, is read by
William Russell
, who played Ian Chesterton in
the original TV serial
.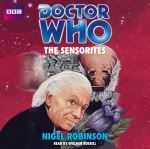 The TARDIS materialises on board a dark and silent spaceship. As the Doctor, Susan, Ian, and Barbara penetrate the craft's eerie gloom they come across what appear to be the bodies of two dead astronauts.
But the astronauts are far from dead - they are living in mortal fear of the Sensorites, a race of telepathic creatures from the Sense-Sphere.
When the lock of the TARDIS is stolen, the Doctor is forced into an uneasy alliance with the aliens. And when he arrives on the Sensorites' planet he discovers that it is not only the humans who have cause to be afraid ...
Written specially for audio by
Steve Lyons
,
Day of the Cockroach
features the Eleventh Doctor, Amy, and Rory and is read by
Arthur Darvill
.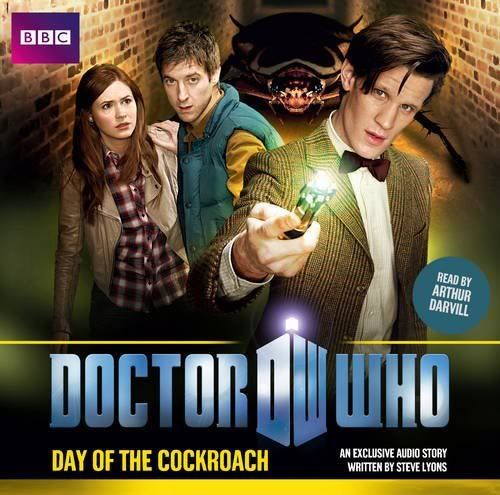 The TARDIS materialises in a pitch-dark tunnel, where the Doctor, Amy, and Rory discover the corpse of a soldier.
When they are questioned by his superior officer, Colonel Bowe, they learn that they are inside a British nuclear bunker in the middle of an atomic war – in 1982.
Amy and Rory weren't even born then but they know the bomb didn't drop that year, and so does the Doctor. The friends also know they had nothing to do with the soldier's death – so who, or what, was the killer? And why does the Doctor's psychic paper not work on the colonel?
The Doctor, Amy, and Rory soon learn that something else is lurking in the shadows. Something deadly ...
Both
Doctor Who: The Sensorites
and
Day of the Cockroach
are released on
1st May
in download form and on
3rd May
as CDs. The
Sensorites
CD release can be pre-ordered
here
and the
Day of the Cockroach
CD release pre-ordered
here
.
---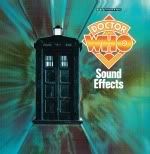 From stories to sound effects, and AudioGO has teamed up with
Discovery Records
for a limited-edition reissue of two 1970s vinyl LPs featuring the work of the BBC Radiophonic Workshop.
Out of This World
and
Doctor Who Sound Effects
have been digitally remastered for re-release on coloured vinyl on
21st April
to coincide with
Record Store Day
.
Doctor Who Sound Effects, first released in 1978, features the ambience of seven alien worlds as well as some extraordinary and extra-dimensional occurrences encountered on Earth. Add to these an audiogram of the Doctor's own mind processes, TARDIS operations, plus some weapons for self-defence and your galactic safety is ensured.

Out of This World, first released in 1976, includes tracks of memorable sound effects created for a wide range of BBC radio and TV programmes in three categories: Outer Space, which includes elements from Doctor Who; Magic and Fantasy, and Suspense and the Supernatural. Many of them are designed to evoke supernatural soundscapes rather than specific activities or locations, with titles such as Galactic Travel, Magic Carpet Flight, and Phantoms of Darkness.
Both albums are being reissued with their original sleeve artwork and notes.
Martin Cobb, of Discovery Records, told
Doctor Who News
:
Record Store Day is an event where participating indie stores have access to a number of exclusive releases, mainly on vinyl.

The exclusivity lasts for about six weeks and they are only allowed to start selling on Record Store Day itself. Customers have to queue up on the day - they cannot reserve items in advance.

People will only be able to get these records from participating stores on 21st April and thereafter - if any are left. If the titles sell through the limited-edition coloured-vinyl quantity of 1,000 copies we may consider pressing them on black vinyl - it depends on interest.
The Scarifyers

Philip Madoc
can be heard in his last acting role in the forthcoming new
Scarifyers
audio play
The Horror of Loch Ness
.
The Cosmic Hobo Productions drama, to be released on
June 4th
as a double CD and download, also stars
David Warner
and
Terry Molloy
.
Celebrated speed ace Sir Malcolm Campbell (
Alex Lowe
) is carrying out speed trials on Loch Ness when a bank of fog suddenly descends. When it lifts, Sir Malcolm and his boat have mysteriously vanished . . .
MI:13's Harry Crow (Warner) and Professor Dunning (Molloy) are soon shaking up the sleepy loch-side village of Inverfarigaig. Aided by kindly local GP Dr Pippin (Madoc), they discover a connection to the erstwhile Laird of Boleskine and Abertarff - occultist, bon vivant, and occasional nudist Aleister Crowley (
David Benson
).
Crow and Dunning swiftly realise that there's more to Inverfarigaig than meets the eye: fraudulent Nessie-hunters, demonic bed sheets, Caledonian witches, and things that go bump in the night. Joined by Crowley, their investigations into Sir Malcolm's disappearance will lead them into terrible danger, as an old foe threatens to unleash ... The Horror of Loch Ness.
Simon Barnard, of Cosmic Hobo Productions, said:
This is the seventh adventure of The Scarifyers and The Horror of Loch Ness is a sequel of sorts to The Devil of Denge Marsh. Recorded in late 2011, it was, sadly, the last acting role of esteemed Welsh actor Philip Madoc, who died last month. It will be broadcast as part of a special Philip Madoc tribute season by BBC Radio 4 Extra later this year.
Planet Skaro

Planet Skaro Audios
has released its Season Four finale,
The Next Universe
- a three-part adventure by
Si Hunt
and
Simon Hart
.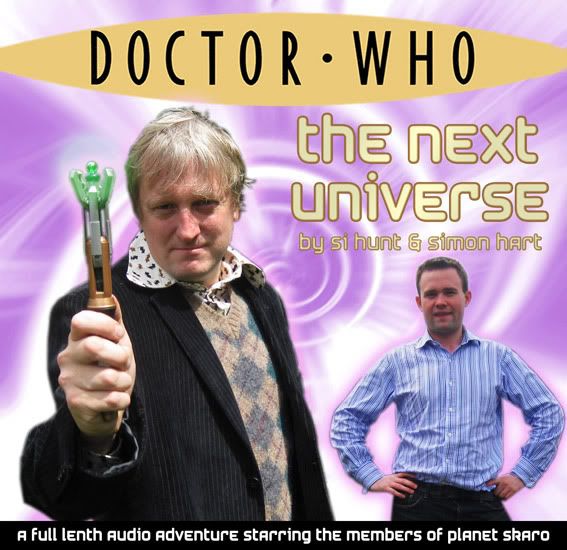 The Clear Waters Appreciation Society is on the hunt for its nemesis: he who caused the society's show to be cancelled! The society has acquired a time machine and vowed to track him down but there's just one problem - the Doctor is nowhere in time and space! Has someone else beaten the society to the destruction of its oldest enemy?
A trailer for the story is available
here
.
Episode 1
: Why is the Doctor disappearing out of all his time streams? And what is wrong with time?
Episode 2
: Can the two Doctors and his companions survive the deadly game of Rassilon?
Episode 3
: Far in the future a deadly trap waits for the Doctor, but who's really behind it?
Planet Skaro Audios was started six years ago, and spokesman
Richard Brinck-Johnsen
said:
It's been a long journey, from Massanicassa and Ice Warriors to Tor Garane and Father Christmas! Friends have been lost and enemies made but now, at last, the story is at an end. Featuring many returning characters, running right through all of the previous 22 Planet Skaro audio productions, this is a watershed moment for the series, but for the Doctor the end is only the beginning!
Following on from the climactic events of
The Next Universe
, the fifth season of Planet Skaro audios is due to begin next month. For the latest updates and to find out more about all the earlier releases visit the
Planet Skaro discussion forum
.