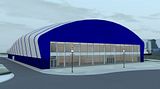 The BBC have confirmed previous indications that the
Doctor Who Experience
- which closed last month in London - will be based at its new Cardiff Bay home for at least five years.
The commitment was disclosed within a BBC Careers advert for a new
Commercial Manager
, whose main responsibilities will be for the Cardiff incarnation when it opens in the summer.
BBC Worldwide is looking for a Commercial Manager to be employed on a fixed term contract basis, focusing on the commercial and operational aspects of the Doctor Who Experience, a permanent visitor attraction to be located in Cardiff until 2017. It is envisaged that you may be required to work for up to 4 weeks in the London office prior to the Doctor Who Experience opening in Summer 2012.

As Commercial Manager you'll maximise the commercial return derived from all aspects of the Doctor Who Experience, including retail, catering, photographs, up sale on site, corporate events and innovating new event revenue streams associated with the DWE. In addition you'll assume operational responsibility for the DWE, managing the on site team and developing strong relationships with the brand and other major stakeholders.

The closing date for the role is 19th March.