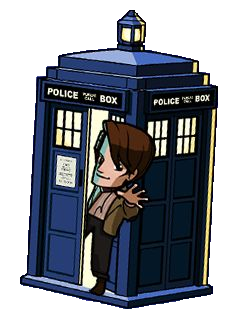 After a few months in preview, the
"massively multiplayer online"
(MMO) game
Worlds in Time
has now been officially launched.
Robert Nashak
, Executive Vice President, BBC Worldwide Digital Entertainment and Games, said:
Worlds in Time offers players a multitude of elements and opportunities to socialise - from introducing beloved characters and progressive storylines to presenting additional guild play, our goal is to become the largest Doctor Who community ever assembled, while also being an enjoyable experience for all players.

Daniel James
, CEO of Three Rings Design Inc. who created the game, said:
I have been a fan of Doctor Who since I was a child, so developing this game with BBC Worldwide is a dream come true. Like the Doctor, we have our own mission, to provide Doctor Who fans an experience matched only by the wondrous TV series, and casual gamers a warm opportunity to discover the marvelous world for themselves. It's exciting to see the Doctor Who universe come to life in such a unique way.

The game is free to play
online
for players aged 13 and above (those between 13-15 need parental permission to participate), meeting the games
terms and conditions
. Those with electonic payment facilities (e.g. Paypal) may also purchase an optional "enhanced experience".
Doctor Who: Worlds in Time offers something for everyone, including an intriguing narrative for sci-fi followers and serious gamers and stimulating missions for game enthusiasts looking for a quick pick-up-and-play game. After preparing the TARDIS, players travel to various immersive worlds (including Ember, Mars and New New York) and work together to defend civilization against infamous villains (including the Weeping Angels, Cybermen, Daleks, Autons, Oods and Zygons) bent on creating chaos and destruction in the universe. Since the open preview launch in December 2011, the BBC and Three Rings have worked to make more Doctor Who environments available, as well as introduce additional virtual items and create deeply engaging communal features.