A roundup of some of the merchandise due to be released over the next couple of months.
Action Figures Collectors Sets
Attack Of The Cybermen

Released: 24th February 2012

Pre-order from Forbidden Planet

Contents:
1 x Peri action figure.
1 x Rogue Cyberman action figure (with detachable faceplate).
1 x Cybergun accessory.

Remembrance Of The Daleks

Released: 9th March 2012

Pre-order from Forbidden Planet

Contents:
1 x Dalek Emperor Davros action figure.
1 x Destroyed Imperial Dalek action figure.

Contents:
1 x Fourth Doctor action figure
1 x Krynoid action figure
1 x Cutlass accessory
1 x Open Seed Pod accessory
1 x Closed Seed Pod accessory
Character Building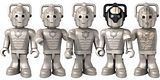 The Lego-compatible
Character Building
collection sees the release of a new
Army Pack
of Cybermen, featuring a Cyberleader and three Cybermen as seen in
A Good Man Goes To War
, plus the damaged "sentry" version from
The Pandorica Opens
. The set is due for
release
on
17th February
.
The new figures join the existing "Cybus" Cybermen army
released
last year; other packs include
red "Drone" Daleks
and the
Weeping Angels
.
Masterpiece Collection

Titan Merchandise
have announced a new addition to their Masterpiece range of sculptures:
After months of demand, Titan Merchandise are proud to debut the first in our limited edition, high-quality Doctor Who Masterpiece Collection Dalek range: the super-iconic "Genesis of the Daleks" design from the classic 1975 adventure (starring Tom Baker's Fourth Doctor) that introduced the Dalek's creator: Davros!
Taken from the original plans for this design, this
8" sculpt
is exact in every detail and is a must-have item for all serious Doctor Who collectors.
The sculpture is due to be released on
30th April
, and is available for
pre-order
.
Big Chief Studios

Big Chief Studios
are to release a new, 9" vinyl figure of the
10th Doctor
under their
Dynamix Ultra Stylised Figures
range: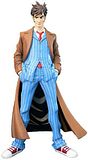 Taking inspiration from the Doctor Who IDW comic series, Dynamix Ultra-Stylised Vinyl Figurines offer unique interpretations of your favourite characters from the world's longest-running sci-fi TV show.
From his spikey hair, to his trademark flowing trench coat and pinstriped suit, the Tenth Doctor strikes a confident pose ready for his next time-travelling adventure.
Produced in a Worldwide Collectors Limited Edition of 3000, each figurine comes with a Doctor Who logo base and is packed in a window display box.
The figure is due to be released on
27th May
, and is available for
pre-order
.
Zeon Ceramics

Zeon
are to release two new ceramics based upon the TARDIS, with a
money box
expected for 19th March , followed by a
tea pot
on the 2nd May.