Fantom Films
are to release the autobiography of
Jacqueline Pearce
, who played Chessene in
The Two Doctors
but probably most recognisable as the elegant baddie Servalan in
Blakes's 7
!
From Byfleet to the Bush
will be published in both paperback and hardback formats, with a book launch event to take place on 11th March at the George IV Public House, Chiswick. More details can be found via
their website
.
From Byfleet to The Bush
The actress Jacqueline Pearce is best known to television audiences as the villainous Servalan from the fondly remembered Blake's Seven (BBC 1978-1981). But her career has taken her from RADA to Hollywood, via starring roles in international comedy films, Hammer Horror, BBC Shakespeare, and London's West End. So how did she end up living in the African bush with her belongings in black bin-bags? Find out with this gripping memoir of an extraordinary life – from Byfleet to the Bush.
Jacqueline's motherless upbringing in suburban Byfleet was unconventional and her education at the hands of nuns left her emotionally scarred. Through the course of her erratic career, she found love, laughter, heartache, breakdowns, fame, obscurity, and sex drugs and rock and roll. On the way, she encountered such stars as Elizabeth Taylor and Richard Burton, Sammy Davis Jr, Jerry Lewis, Alan Bates, John Hurt, Dervla Kirwan and Rupert Penry-Jones. Candid, vivid, mordant and funny, this is an unusual and enchanting memoir.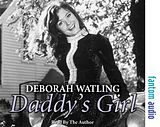 Also out in March is a book written by
Valentine Palmer
, best known in
Doctor Who
circles as the rebel Monia in
Day of the Daleks
. In
TITANIC: The Strange Case of Great Uncle Bertie
, the actor, producer and screenwriter sets out to write the definite account of the Titanic's sinking. As the 100th anniversary of that terrible day approaches Palmer follows up innumerable conflicting stories and theories that still, to this day, surround the doomed liner... with a new unique perspective through the eyes of Valentine's family and Charles Lightroller – his great uncle, the highest ranking officer to survive the sinking.
Deborah Watling
's autobiography,
Daddy's Girl
is to have an
audio release
this month, with the actress herself recounting her memoirs.