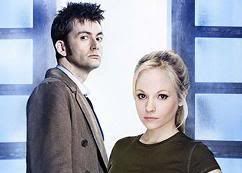 Tenth Doctor
David Tennant
has married his long term partner
Georgia Moffett
at a ceremony in London.
The couple, who became engaged at the start of 2011, tied the knot on Friday evening at an undisclosed location, attended by close family and friends.
Georgia Moffett is the daughter of Fifth Doctor,
Peter Davison
. She played Jenny in the 2008 story
The Doctor's Daughter
.
The couple's first child, Olive, was born at the end of March.