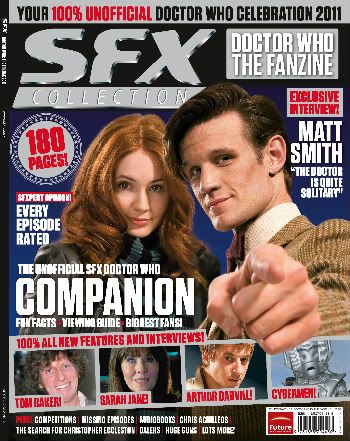 Today
SFX
release the second in their "bookazine" collection, this edition entitled
Doctor Who: The Fanzine
. Released in celebration of the 48th Anniversary of the series, the 180 page issue is described as the
"ultimate unofficial tribute to the nation's favourite television programme, with 100% new content"
.
In this issue:
Battle of the Superfans: we pit the show's self-proclaimed biggest fanatics against each other to discover who deserves the title of Ultimate Superfan!
New Matt Smith interview: the actor explains why playing the Doctor can be a solitary existence
Arthur Darvill Fannish Inquisition: you quiz Rory Williams on dying, gerbils and series seven
The Ten Greatest Doctor Who Moments You'll (Probably) Never See: the most tantalising scenes from Who's missing episodes, as imagined by the fabulous artists behind the Reign Of Terror DVD animation
Full series six episode guide: 14-episodes examined minute-by-minute!
A Hitch In Time: looking at Patrick Troughton's other time travelling role
Tom Baker & Louise Jameson interviewed: we put your questions to the Fourth Doctor and Leela
Interview with Who DVD head Dan Hall
Christmas special preview
Every monster ever in our huge colour illustration
The history of guns in Doctor Who
The Doctor in The Sarah Jane Adventures
The secret diary of a Doctor Who addict
"Chasing Christopher Eccleston": our (unsuccessful) attempts to grab a word with the Ninth Doctor!
Eleven brilliant Who writers – including Tom Macrae, Toby Whithouse, James Moran and Matthew Graham – choose their favourite Doctor
In-depth interview with top artist Chris Achilleos – complete with two brand new illustrations
The latest instalment in our rib-tickling cartoon strip Arthur "Dies Daily" Darvill Vs Murderous Moffat
What happened when we went trolling on forums
The most amazing memorabilia collection of them all
Results of our "draw the Doctor's bedroom" competition
Plus:
» Terry Nation » Naughty spoofs » Target books » Radio Times covers » The "Inbetween" years » Toby Hadoke on tour » 20 things we learned from series six » Are you spoilerphobic? » Interviewing the audio makers » Geeky confessions » The Doctor Who Experience » Every Who episode EVER rated » The Who How » Back to Paradise Towers » 50th anniversary wishlist » What the general public think of Who » (And nothing at all about the Australian K-9 series!)
The magazine is out today and available in all good newsagents, and may also be
ordered online
.