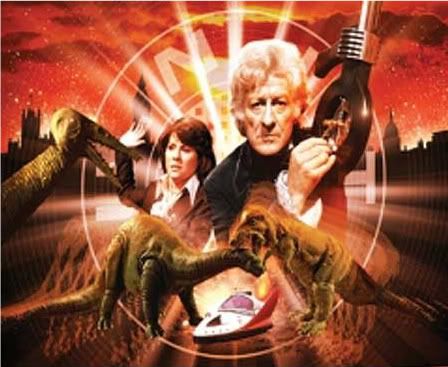 This January sees the release of
Invasion of the Dinosaurs
on DVD, a story which has the dubious fame of including the final casualty of the old BBC process of destroying prints, with episode one only existing as a black and white print in the BBC Archive.
The episode, like other 'monochrome' Pertwee episodes, has been a focus as to whether a colour version could be recreated; speaking in the latest issue of
Doctor Who Magazine
, DVD executive producer
Dan Hall
said:
This colour recovery has been a miracle, pulling out colour information from black and white film prints. Unfortunately, in the case of
Invasion
(of the Dinosaurs)
Part One, the process has not produced a
perfect
colour print, but enough information has been salvaged to offer a tantalising glimpse of what the original broadcast may have been like.
As a result, the episode will be presented in the story in its 'clean' black and white version, with the partial colour restoration available as an alternative.
---
The colour episode will be shown in the form of a special preview for attendees at the forthcoming
DWAS
convention,
Time 5
, taking place at Riverside Studios on
Saturday 29th October 2011
:
To publicise the forthcoming DVD release we are pleased that the colour version of episode 1 will be previewed on the big screen in the cinema.
The trailer for the forthcoming
The Reign of Terror
- recently seen in Australia - will also be screened during the convention.
(with thanks to Paul Winter)