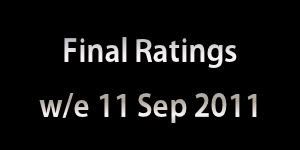 Final figures show
Doctor Who
:
The Girl Who Waited
was the
13th
most watched programme of the week.
Final Figures include those who record the programme and watch it within seven days, but do not include those watching on iPlayer where a million have so far accessed the episode. The included figures helped Doctor Who edge ahead of a episode of Coronation Street to take the 13th position.
Torchwood Episode Nine finished the week as number 36 in the chart.