The
BBC
have released three videos clips to introduce the next edition of
Doctor Who Confidential
,
What Dreams May Come
, which is due to be broadcast on
Saturday 10th September
on
BBC3
/
BBCHD
at
8:00pm
, straight after
The Girl Who Waited
. It will be available to watch in the UK after broadcast via the
BBC iPlayer
until 8th October.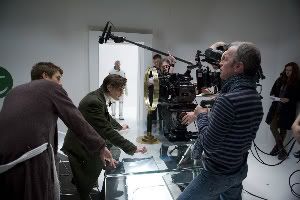 Confidential is out and about with Karen Gillan (Amy Pond) and Arthur Darvill (Rory Williams).
Can Karen get up to 100mph around one of the UK's fastest racetracks and can Arthur rise to the challenge of swimming in a tank of sharks?
The team are also on set at Wales Millennium Centre to fend off some brutal new enemies and viewers get to experience a 'Day in the Life' of the camera department.
Also featured is another Script to Screen, as our storyboard artist brings the story to life.
Featuring interviews with Matt Smith, Karen Gillan, Arthur Darvill and Steven Moffat.