2|Entertain
have released cover art and content details for the forthcoming
Series Six Part Two
, due out on 10th October, and also details for
The Sarah Jane Adventures Series Four
(31st October).
Doctor Who Series Six (Part Two)
Release Date: 10th October 2011
(available for pre-order on DVD and Blu-ray)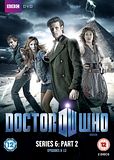 Starring Matt Smith as The Doctor, with Karen Gillan as Amy and Arthur Darvill as Rory
Written by Steven Moffat, Mark Gatiss, Tom MacRae, Toby Whithouse, Gareth Roberts
Directed by Richard Senior, Richard Clark, Nick Hurran, Steve Hughes, Jeremy Webb

Broadcast: 27th August - 1st October 2011
(synopsis includes unbroadcast episodes)



The truth about River Song is out and the time has come for the Doctor to face his greatest demons. Venturing across centuries and galaxies, the Doctor, Amy and Rory will encounter the greatest war criminal in all of history - and Hitler. Together, they'll discover there's no scarier place in the universe than a child's bedroom and a visit to an alien quarantine facility will reveal to Rory a very different side to his wife. In a hotel where walls move, corridors twist and rooms vanish, death lies waiting. But the Doctor's time has yet to come. He has one last stop to make on his final journey - an old friend needs his help and an old foe must be defeated. But time catches up with us all and the Doctor can delay no more.

By the shores of Lake Silencio, in Utah, all of time and space hang in the balance and a NASA astronaut is waiting...
Special Features
Monster Files: The Antibodies & The Cybermats
The Sarah Jane Adventures Series Four
Release Date: 31st October 2011
(available for pre-order on DVD and Blu-ray)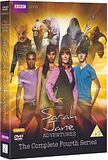 Starring Elisabeth Sladen as Sarah Jane Smith, Daniel Anthony as Clyde, Anjli Mohindra as Rani, Tommy Knight as Luke
Written by Joseph Lidster, Phil Ford, Russell T Davies, Gareth Roberts, Rupert Laight, Clayton Hickman
Directed by Joss Agnew, Ashley Way

Broadcast: 11th October - 16th November 2010
The fourth series provides ever more thrills and spills. In two special episodes written by Russell T Davies, Sarah Jane is reunited with another of The Doctor's former companions, Jo Grant. They're joined by The Eleventh Doctor (Matt Smith) in an alien-busting adventure featuring brand-new vulture aliens, the mysterious Shansheeth and a trip to an alien planet. The series also features fun with enemies old and new, including the terrors of the Nightmare Man and a dangerous journey back into history.
Special Features
Pyramids of Mars - included as a tribute to Elisabeth Sladen who sadly passed away this year. Pyramids of Mars sees Sarah Jane Smith and the Doctor arrive at an old priory in the year 1911 where the owner, Marcus Scarman, has been excavating ancient tombs and soon becomes possessed by the spirit of Sutekh, bringer of 'the gift of death to all mankind'. Will Sutekh the all-powerful be freed from his bonds and destroy the world, or will the Doctor manage to bring about his destruction?