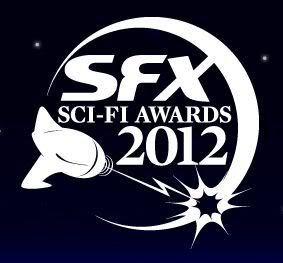 SFX have launched the
Sci-Fi Awards for 2012
, and unsurprisingly
Doctor Who
and
Torchwood
are suggestions for a number of the categories.
Both shows are suggested in the
Best TV Show
; others include
Being Human
,
Fringe
,
Game of Thrones
,
Misfits
,
Primeval
, and
The Walking Dead
.
Matt Smith
and
Karen Gillan
are suggested for the
Best Sci-Fi Actor
and
Actress
categories, with the latter also featuring
Alex Kingston
(River Song),
Suranne Jones
(Idris) and
Eve Myles
(Gwen Cooper/Torchwood); other nominees include Aidan Turner and Russell Tovey for
Being Human
, Andrew Lincoln for
The Walking Dead
, and Antonia Thomas and Lauren Socha for
Misfits
. Myles and Jones also pop up in the
Sexiest Female
category, with
John Barrowman
represented in
Sexiest Male
.
Best Monster or Villain
sees
Madame Kovarian
and
The Silence
suggested, against enemies such as The Red Skull from
Captain America
, Crowley (played by
Doctor Who
guest star Mark Sheppard) from
Supernatural
and Loki from
Thor
.
Best Special Effect
is represented by the opening sequence from
A Good Man Goes To War
; this competes against Asgard from
Thor
, Paul from
Paul
, and the train crash in
Super 8
.
Doctor Who
is also suggested in the
Best Collectable, Model, Toy or Boardgame
category, with the
Character Building TARDIS mini set
competing with the
Fifth Doctor and Tegan fancy dress outfits
, plus items like Thor's Hammer and Captain America headphones.
Finally, the
UK censored scenes of Jack
from
Torchwood: Miracle Day
is mentioned in the
Biggest Disappointment or Missed Opportunity
category; this contains amongst other things the fairies in
True Blood
, Stan Lee absent from
X-Men First Class
, and
Outcasts
!
These are SFX's suggestions - you can actually vote for anything that has been released, published or broadcast between
15th December 2010
and
19th October 2011
via the
voting site
.
The winners will be revealed live at the
SFX Weekender
that takes place in early February 2012 and will be hosted by author
Robert Rankin
; the results will also be printed in Issue 219 of SFX (due out on the 8th February).