David Tennant has been talking to
The Guardian
Weekend as his run in the West End playing Benedick to Catherine Tate's Beatrice draws to a close.
Tennant talks about his career so far, his life growing up in Scotland and his tabloid reputation as a seducer on the Doctor Who set. "I refute that heartily." he says. "Well, I mean I have had some girlfriends, and I did meet some of them at work you know, my bedpost really has very few notches compared with other actors of my erm, erm, pedigree.
He talks about his future plans following the release of Fright Night next month. "I just like to join the jobs up and hope they will be as varied and interesting as possible. So if I can do a film with DreamWorks, then come back and do a little British film, then do something in the West End, then do something for the BBC, that's great. You learn from experience that the things you think are going to change your life probably won't. Not that I'm looking for it to be changed. I'm very happy with what I've got."
---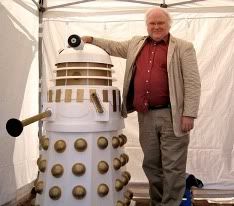 Colin Baker
joined experts from East Cambridgeshire District Council, Cambridgeshire Constabulary and Job Centre Plus in the cathedral city of
Ely
on Friday in a day aimed at helping residents tackle any life challenges that they may face.
The Sixth Doctor was joined by experts in housing, policing, benefits and drug awareness as well as a Dalek, a Cyberman and an Ood. Baker, who is currently touring in Wilkie Collins, The Woman in White, gave his time free for the event.
"I think everyone knows that it has been a difficult time for many people over the last few years and I know a lot of people who have or are struggling to keep their heads above water," he said. "I hope that in a small way I can attract people along who might not necessarily seek help who can then talk to the experts who will be on hand."
---
Christopher Eccleston
is currently filming in the North East of England in a comedy drama about a grumpy pensioner who joins a local choir.
Also staring
Gemma Arterton
,
Vanessa Redgrave
and
Terence Stamp
,
Song For Marion
by
Paul Andrew Williams
is a comedy drama about a grumpy pensioner Arthur (Terence Stamp) who is reluctantly inspired by his beloved wife Marion (Vanessa Redgrave) to join a highly unconventional local choir.
Eccleston plays their son James in the Steel Mill Pictures production.
---
Matt Smith has been
snapped
in a fetching white sailor's hat with wide-rimmed glasses as he rowed on the Thames while filming for the new BBC Drama Bert and Dickie. Smith is playing Bert Bushnell, one half of the rowing team that won the gold medal in the 1948 Olympics in London for the double scull.