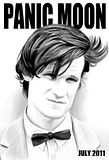 July's issue of the fanzine Panic Moon is now available.
This issue includes
Reviews of each episode from the first half of series six;
New perspectives on the stories Spearhead from Space, The Gunfighters, Planet of the Spiders, Frontios and Day of the Daleks, to tie in with these recent or impending DVD releases (or re-release in one case);
A look at Terror of the Autons and Doctor Who in Parliament;
A tribute to Elisabeth Sladen;
Thoughts on the murky origins of the Sea Devils, on the Brigadier in season seven, and the connections between Robot and The Eleventh Hour;
Plus the usual Big Finish reviews and the letters page.
The fanzine is fully illustrated by a number of talented artists, including Adrian Salmon who has supplied two brand new illustrations.
The issue can be ordered from the Panic Moon
Website
.