The
British Film Institute
are to show a special
preview screening
of the Series Six second half opener
Let's Kill Hitler
. The screening will take place on the
15th August 2011
from
6:20pm
, and will be accompanied by a Q&A session (guests to be confirmed).
As with previous Doctor Who/Torchwood events, it was fully booked by 2:30pm within hours of being announced; some return tickets might be available from the Box Office in due course.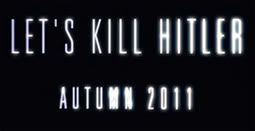 Following the game-changing mid-series finale in June, The Doctor returns for the first of six new episodes to be broadcast on BBC One this autumn. Matt Smith, Karen Gillan, Arthur Darvill and Alex Kingston star in this new adventure written by Steven Moffat and directed by Richard Senior. Join us for the chance to see this opener to the autumn series followed by a Q&A with some special guests (to be announced nearer the time). We regret that due to the pressures of time, autographs will not be possible.