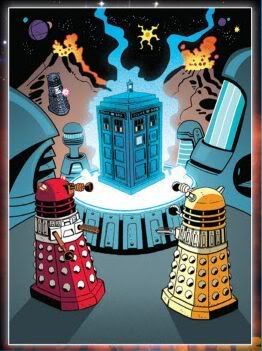 The
Cartoon Museum
in London is to launch a new exhibition in July; entitled
Doctor Who In Comics (1964-2011)
, the museum will be displaying a variety of artwork from throughout the lifetime of the series that have appeared in publication like
Doctor Who Magazine
,
IDW
, annuals, yearbooks, etc.
Curator
Anita O'Brien
said:
There will be about 90 pieces of original Doctor Who artwork including work by Dave Gibbons, John Ridgeway, John Canning, Adrian Salmon, Barrie Mitchell, Martin Geraghty, Ben Templesmith and Mark Buckingham - and many others - many of which will never have been displayed in public before.

It is hoped to include artwork featuring all eleven television Doctors, and also in his movie persona of
Peter Cushing
.
The exhibition will run from 27th July until 30th October. See the
museum website
for full information about their exhibits and admission details.
(with thanks to Anita O'Brien, The Comic Museum