AudioGo
have announced the release of two more titles in their range of
Doctor Who
spoken stories.
The Eye of the Jungle
joins the range of original Eleventh Doctor adventures, with
David Troughton
imparting a tale set within the Amazon rainforests of 1827. Meanwhile, the ongoing series of Target novelisations continues with John Peel's adaptation of Hartnell romp
The Chase
, narrated by Vicki herself,
Maureen O'Brien
, plus Dalek voices by
Nicholas Briggs
.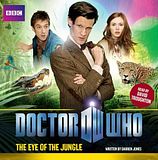 The Eye of the Jungle
(available for pre-order)
by Darren Jones
read by David Troughton
published 7th July 2011
The Doctor, Amy and Rory arrive in the jungle near a hurriedly abandoned campsite, where they are surrounded by hungry black caiman - huge lizards. Only the arrival of a man with a rifle sees off the giant beasts. Oliver Blazington has come to the forest to bag big game, and his companion Garrett is a naturalist, collecting exotic creatures for London Zoo. But the Doctor soon discovers that another very different hunter is stalking the Amazon. Animals and people have been disappearing without trace, and local villagers speak darkly of 'The Eye of the Jungle'.
Amy senses that the all-seeing Eye is watching them - but she and Rory are powerless to intervene when it sets its sights on the Doctor...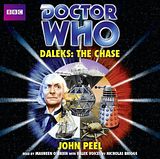 Daleks: The Chase
(available for pre-order)
by John Peel
read by Maureen O'Brien
published 7th July 2011
Through a Space-Time Visualiser the Doctor and his companions are horrified to see an execution squad of Daleks about to leave Skaro on a mission to find the TARDIS and exterminate the time travellers. Eluding the Daleks on the barren planet Aridius the Doctor and his friends escape in the TARDIS. But this is only the beginning of an epic journey.
As they travel through space and time, they try to shake off their pursuers by making a series of random landings - but the Daleks don't give up easily. This is a chase to the death...
Also, out this month: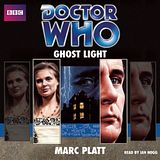 Ghost Light
(purchase now)
by Marc Platt
read by Ian Hogg
published 2nd June 2011
A gloomy, decaying mansion, a mysterious fire, and a reclusive 19th century naturalist with blasphemous theories are the sinister elements to be found in Doctor Who: Ghost Light, an unabridged reading of Marc Platt's classic Doctor Who adventure. Who - or what - is Josiah Smith?
What terrible secret does his house conceal? And, as the Doctor and Ace venture from the Tardis to explore the mansion, why does Ace find everything so frighteningly familiar?