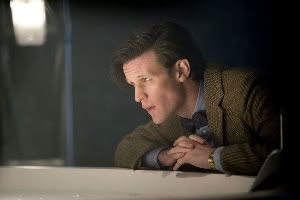 The Almost People
achieved a final official rating of of
6.72 million
viewers.
The figure, which includes those who watched the programme within seven days of broadcast, makes Doctor Who the 6th most watched programme on BBC One for the week.
Overall it was either 20th or 21st for the week, depending on the numbers watching Friday's edition of
Emmerdale
on ITV1 HD. Figures outside the ITV1 HD Top Ten are not yet available. An ITV1 HD audience of over 290,000 would see Fridays
Emmerdale
push Doctor Who out of the top twenty for the first time since
Silence in the Library
in 2008.
Full figures, which will reveal the final chart position of the episode, should be available in the next few of days.