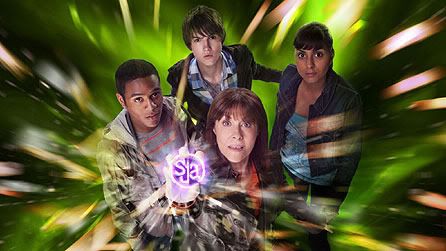 The final series of
The Sarah Jane Adventures
starring the late
Elisabeth Sladen
is expected to be shown during what has now become its 'traditional' month of
October
on CBBC and BBC1(HD), reports
Doctor Who Magazine
.
The titles of the three, two-part stories that make up the fifth series are
Sky
by
Phil Ford
,
The Curse of Clyde Langer
also by
Phil Ford
, and
The Man Who Wasn't There
by
Gareth Roberts
.
The series features the regular team of
Daniel Anthony
as Clyde and
Anjli Mohindra
as Rani, with
Tommy Knight
returning properly as
Luke
for the final story. Other guest stars announced for this series include
Peter Bowles
,
Christine Stephen-Daly
and
James Dreyfus
. It was produced as part of the same recording schedule as series four by
Brian Minchin
.
---
The BBC will be launching a new theme to their
Sarah Jane Academy
quiz on the
Sarah Jane Adventures
website from next week;
Alien Encounters
"promises fresh challenges and more monsters, including our old friends, the Sontarans!"
.