This is a quick round-up of recent news on
David Tennant
's filming projects.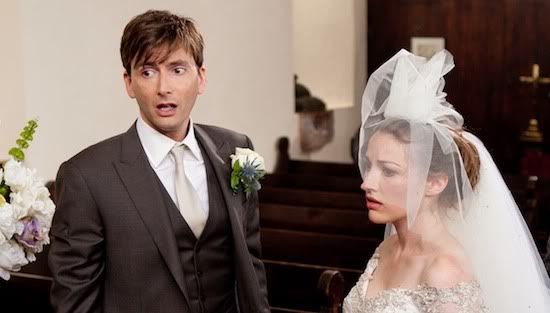 The Decoy Bride
The Decoy Bride
is a romantic comedy set on the fictional Scottish island of Hegg, where writer James Arbor (Tennant) and superstar actress Lara Tyler (Alice Eve) escape to marry out of the public gaze; however, having been tracked down by the paparazzi, a decoy bride Katie (Kelly MacDonald) is hired to stage a fake wedding ...
The film opens at the Cannes Film Festival this weekend.
Fright Night
Fright Night
is the remake of the 1985 film, made by
Dreamwatch
and directed by Craig Gillespie. In this film Tennant plays Peter Vincent, a former illusionist cum vampire hunter who comes to the aid of Charley Brewster (Anton Yelchin) to take down neighbour/vampire Jerry Dandrige (Colin Farrell).
The company has now released a promotional photo of Tennant in character:
The film is released from 19th August.
A Miracle

A Miracle is a new film being developed by producer Paul Raphael, and is a UK/Turkish co-production. At Cannes he confirmed that Tennant would be starring in the film, playing a despairing London school teacher named Izzy who heads off to Turkey on a money-making scheme.

The film is expected to start filming at the end of the year.