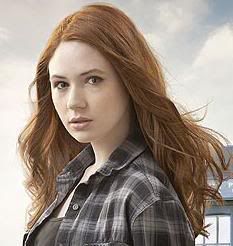 Karen Gillan
will be a guest at this year's
London Film and Comic Con
, her first convention appearance.
She will be taking part in
photo opportunity with the TARDIS
and a
45 minute talk
as well as signing throughout the day on Saturday, 9th July 2011.
Tickets go on sale now and are only available on a first come first served basis.
Other guests from Doctor Who appearing over the two day event include
Mark Sheppard
(Canton Everett Delaware III,
The Impossible Astronaut/Day of the Moon
),
Camille Coduri
(Jackie Tyler),
Richard Franklin
(Captain Mike Yates),
Mary Tamm
(Romana I),
Sarah Sutton
(Nyssa),
Louise Jameson
(Leela) and
Sophie Aldred
(Ace).