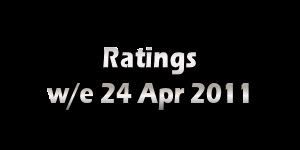 Barb have now issued final ratings for the week ending 24 April making
Doctor Who: The Impossible Astronaut
the
6th
most watched programme of the week.
The chart is dominated by soaps with
Lewis
in 19th place and
The Reckoning
at 20th the only other non soap dramas to make the top 20.
The overnight chart saw the show in 13th place, the rise being due to the large number of people who record Doctor Who for viewing later in the week.
The Impossible Astronaut
becomes the 44th episode of Doctor Who to achieve a top ten place. It is a higher chart placing than any other season premier in the show's history, apart from the Eleventh Doctor's first episode,
The Eleventh Hour
, which was 3rd.
Out of 771 Doctor Who episodes broadcast, only 13 have achieved a higher chart placing.