The BBC have released press details for episode four of the current series,
The Doctor's Wife
, written by
Neil Gaiman
and directed by
Richard Clark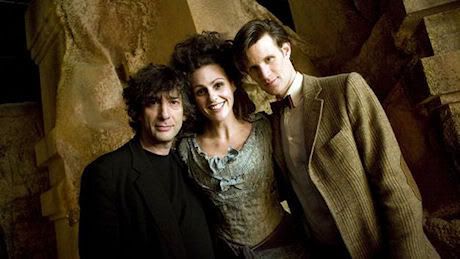 The Doctor receives a distress signal from an old friend. Could there really be another living Time Lord out there? Hopes raised, he follows the signal to a junkyard planet sitting upon a mysterious asteroid in a Bubble universe, populated by a very strange family, as the time-travelling drama continues.
The Doctor, Amy and Rory are given the warmest of welcomes by Auntie, Uncle and Nephew. But the beautiful and insane Idris greets them in a more unusual fashion – what is she trying to tell the Doctor? As the Doctor investigates, he unwittingly puts his friends in the gravest danger.
The Doctor is played by Matt Smith, Amy by Karen Gillan, Rory by Arthur Darvill and Idris by Suranne Jones.
The programme is due to be broadcast in the UK on
Saturday 14th May
at a time to be confirmed next week.
Meanwhile it has been confirmed that the UK Broadcast of Episode Three:
The Curse of the Black Spot
will be at the slightly later time of 6.15pm. It will again be sandwiched between
Don't Scare the Hare
and
So You think You Can Dance
. ITV1 will show
New People Do the Funniest Things
.