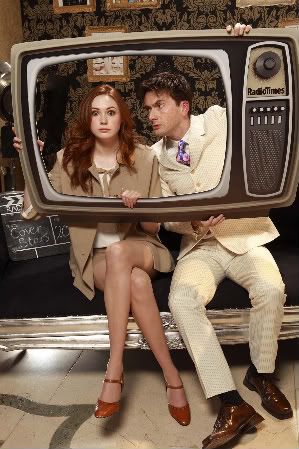 The annual
Radio Times Covers Party
took place at Claridges in London on Tuesday evening, which as usual saw a multitude of stars gather together to celebrate another year's worth of Radio Times covers.
The event was hosted by former Doctor
David Tennant
, who was also presented with his cover for
Single Father (9-15 October)
;
Karen Gillan
was there to receive the Doctor Who cover for
The Pandorica Opens (19-25 June)
.
Other guests at the party included Steven Moffat, Rob Brydon, Terry Wogan, Aidan Grimshaw, Jean Marsh, Keeley Hawes, Hugh Bonneville and David Morrissey.
You can find a range of photos from the evening on the
Radio Times website
, featuring David Tennant, Karen Gillan and Steven Moffat amongst the other guests; evening developments were also revealed live and can be read via
Twitter
, including further behind-the-scenes photos.
The Radio Times have also provided a short video of the evening, featuring sound-bites from various celebrities, including host David Tennant and the current series representatives Karen Gillan and Steven Moffat (1m20s in).
---
Plus, this week's Radio Times (22-28 Jan) see actress
Sinead Keenan
talk about the new series of
Being Human
and playing an alien in
Doctor Who
:
The third series is "bigger, better and bolder. It's literally bigger, as the new house is huge. The camerawork is more ambitious, too; it's very cinematic.
Keenan's character, Nina, became a werewolf after she was scratched by George in the first series.
I was thrilled as it meant Nina was there to stay. Then I realised I'd have to 'transform', which means getting naked and spending three-quarters of your working day in the make-up chair.
It's not the first time 34-year-old Keenan has suffered for her art. In Doctor Who, she played an alien sporting pea-green spikes instead of hair.
For someone who initially told her agent she didn't like sci-fi and the supernatural, I've done a lot of it!