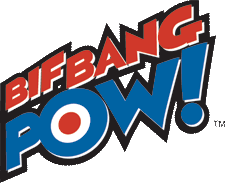 US specialist merchandise designer
Bif Bang Pow!
are to release a new line of toys and collectibles in America based on Doctor Who.
The new
Doctor Who Collection
range is expected to be launched in the summer, and will initially feature retro action figures and playsets, along with bobble heads. Created in partnership with
EMCE Toys
, the figures will stand 8-inches tall and include episode-specific fabric clothing, in addition to multiple points of articulation.
Jason Lenzi, CEO of the company, said:
Bif Bang Pow! is thrilled to bring these brand-new Doctor Who action figures, bobble heads, and collectibles to market. The Denys Fisher range of 9-inch action figures from the 1970s was never released in the United States, and has become one of the most highly sought after toy lines of the past 40 years. Doctor Who bobble heads have never been made for any market, so we have the opportunity to offer these highly desired products to a whole new fan-base that never had the chance to purchase them before. Personally, I've been waiting for this since 1978, so as The Doctor would say, it's about time!

The product line will be unveiled at the
New York Toy Fair
, from 13-16 February.
Later plans include items like licence plate frames, tin boxes, coasters, magnets, glassware, and other popular collectible merchandise.
Bif Bang Pow! was created by Jason Lenzi in 2005 in answer to a market niche to provide merchanside based upon a fan's perspective - to bring stuff to the marketplace that he himself would want to own. The company aim is to "to provide high-quality action figures, toys and collectibles to the massive cult audience (and kids of all ages) that wishes these toys were already in their collection."
(read the press release for full details)