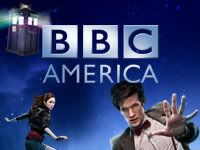 CNN
have reported that plans are afoot to broadcast the sixth series of Doctor to the United States within hours of airing in the United Kingdom.
Addressing the issue of fans downloading episodes via the Internet way ahead of their broadcast in the USA, the vice president of programming at
BBC America
, Richard de Croce, said:
(It)
means fans love the shows so much they can't wait to see them.
And that's the world we live in, in terms of technology, quite honestly. So let's air these shows as quickly as we can post the UK's transmission.
Plans are in the works for season six of "Doctor Who" to be broadcast the same day in the United States as well.
Tomorrow's broadcast of
A Christmas Carol
will be the first time American fans will be able to watch Doctor Who on the same evening as those in the UK, with Australia and Canada following suit a day later.
However, Doctor Who hasn't always aired first in the UK; the 1996 TV Movie aired in the USA and Canada a couple of weeks before the BBC, and back in 1983 some American fans actually got to see the 20th Anniversary story The Five Doctors on PBS two days before those in the United Kingdom!