The official press information for the forthcoming release of
K9
on DVD has clarified that it will be entitled
Series One Volume One
, and not
The Complete Series
as
previously indicated
by online retailers for pre-order. The first thirteen episodes are due to be released on
31st January 2011
, with the latter half of the series following on 7th March.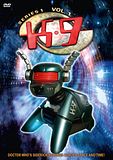 K9 BLAST BLASTS INTO HIS OWN LIVE ACTION SCI-FI ADVENTURE SERIES COMBINING COMEDY, ACTION AND SUSPENSE!
Originally created for the classic British sci-fi show Doctor Who in 1977, K9 has long been an iconic television character. He was created by Bob Baker & Dave Martin, who had been long standing contributors to the show from the Jon Pertwee days through to the Tom Baker era. The robotic dog worked his way into the nation's hearts and he made on screen come back in 2006 showing up in the David Tennant story
School Reunion
.
K9 now blasts into his own sci-fi/adventure series combining comedy, action and suspense, which is being shown on shown on Five in the UK. The series combines live action and stunning visual effects and comes from his original creators Bob Baker and Dave Martin.
Synopsis:
London, the near future: Orphan teenager Starkey, ultimately plans to bring down the system but for the time being he is prepared to simply slip through the cracks. He and his friend Jorjie hide out in the residence of reclusive scientist, Professor Gryffen and his errand boy Darius, who are experimenting with alien technology. The Professor blows a hole in the fabric of space/time and they are attacked by two reptilian warrior JIXEN, but they are saved by a small dog-like robot, K9, who follows the Jixen through the portal.

K9 and Starkey, with the assistance of Jorjie, Darius and Gryffen, become the earth's front line defence against dangers threatening from anywhere and anytime in the galaxy. They will have a lot of fun, adventure, and some scares along the way, saving the earth from alien creatures, monsters and more than a few human threats.
K9
is currently being broadcast in the United Kingdom every morning over the holiday period on
Channel Five
, and all episodes shown so far are available for those in the UK to watch on their
Demand 5
service. The series has been achieving ratings of around
200,000 viewers
, about average for the timeslot.