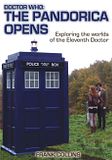 A book reviewing every episode of Series 5 is to be published next week on Monday 6th December.
Doctor Who: The Pandorica Opens - Exploring the Worlds of the Eleventh Doctor
has taken
Frank Collins
's original reviews written on his
Cathode Ray Tube
blog and has vastly expanded them to provide an in-depth analysis of episodes, characters, themes and ideas, and places Doctor Who within the wider cultural context of contemporary social, political, historical and psychological debates.
An excerpt from
an interview with Classic TV Press
(PDF):
How would you describe the content of the book and your writing style?

Essentially, the book takes each story of Series 5 as a chapter in its own right where in roughly three, maybe, four sections I review the relevant episodes and look at the series's character development, major themes, the use of design and music, references to previous episodes and the original series. The spine of each chapter is about themes and characters and that's where a lot of the research is included. So, I will bring in cultural, literary, political, sociological and psychoanalytical material to inform my views of the episode. Crucially, this is just one person's view and as I say in the introduction it is not intended to be an essentialist one. I am aware that a lot of references, particularly around cultural politics, might alienate some fans and with that in mind I've attempted to pitch the book at a level that is accessible to all. Anyone who is interested in what the episodes mean on many different levels will I hope find the book fascinating.
The book is available for pre-order direct from
Classic TV Press
at the discounted price of £12.49.
Frank will be signing copies of his book at the following:
11th December, 1-4pm @
The Who Shop
alongside
Bob Baker
- writer (
The Claws of Axos
,
The Three Doctors
etc) and K9 co-creator.
13th December, 6.30-8.00pm @
Blackwell University Bookshop
, Precinct Centre, Oxford Road, Manchester