Big Finish
have released artwork for their collection of lost stories for the Second Doctor, due in December.
The set comprises the two stories,
Prison in Space
and
The Daleks: The Destroyers
:
Prison in Space was originally commisioned for Season Six but, despite Dick Sharples' script being completed, the story was never made. The audio production is adapted by Simon Guerrier and performed by Frazer Hines, Wendy Padbury and Susan Brown.

The Daleks: The Destroyers was originally planned by Terry Nation to be the pilot for a US series. The script has been adapted for audio by Nicholas Briggs and John Dorney, and is performed by Jean Marsh as Sara Kingdom, with Alan Cox as Mark Seven, Chris Porter as Jason Corey, Alex Mallinson as David Kingdom, and Nicholas Briggs as the Daleks.

In addition, the cover for the Seventh Doctor and Ace lost adventure
Thin Ice
has also been released, with the adventure due for release in April 2011: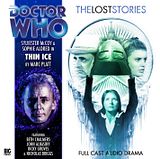 Thin Ice
Written by
Marc Platt
; Directed by
Ken Bentley
Starring: Sylvester McCoy, Sophie Aldred, Ricky Groves, John Albasiny, Beth Chalmers, Nigel Lambert, John Banks and Nicholas Briggs
Moscow 1967. The Doctor and Ace have arrived behind the Iron Curtain, and the Soviet Union is seeking a new weapon that will give it mastery in the Cold War.

What is the secret of the Martian relics? As the legendary War Lord Sezhyr returns to life, the Doctor is faced with some of his oldest and deadliest enemies.

The fate of Earth – and the future of Ace – are now intertwined...