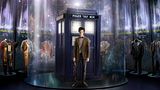 As reported in
September
, the existing Doctor Who exhibitions will close by early next year, and are to be combined into a new exhibition to be called
The Doctor Who Experience
. A few more details have now been released about the project.
The exhibition is to be designed by Design and AV specialist
Sarner
, a company well-versed in building large-scale projects such as museums and theme parks attractions. Says Michael Bennett, Sarner's creative director:
Our idea was to put the visitor into a Doctor Who adventure. The show section features powerful scenic recreations, including a TARDIS interior, and uses a storyline featuring the current Doctor, Matt Smith, who we've been fortunate enough to work with.
The exhibition is to feature an immersive, timed dark walk experience where visitors will become involved in "their very own Doctor Who adventure, helping the Doctor with a journey through time and space, fending off threats from iconic monsters along the way." Special effects and exclusively filmed footage will also form a part of the experience, including scenes with the 11th Doctor (Matt Smith) and a recreation of his TARDIS console room.
As well as the 'adventure', the project will also include the more traditional exhibition, charting the entire history of the show from its humble beginnings in 1963 to the most recent series, with interactive areas, displays and memorabilia from the television show. Items in the exhibition include
two
versions of the TARDIS console room, harking from the
5th
and
10th
Doctor eras, the police box exterior circa
4th
Doctor, and very recent props such as the Pandorica. Monsters include several generations of the Daleks and Cybermen, as well as Silurians, an Ice Warrior and a Zygon.
Steven Moffat
, Head Writer and Executive Producer for Doctor Who, is enthusiatic about the project:
The Doctor Who Experience is a fan's dream come true - a fully interactive adventure that will allow viewers of the show to get as close as possible to some of the scariest monsters from the series. It will also be the first time that Doctor Who artefacts from all the show's 47-year history - classic and new - will be on display together, many of them being seen for the first time. And never mind that, this is the day the Doctor teaches you how to fly the Tardis through time and space, and takes you into battle with all his deadliest enemies in a brand new adventure.

So steady your nerves and bring your own sofa - the Doctor needs you.
Matt Smith
, the Doctor:
The whole concept of the Doctor Who Experience is massively exciting! I hope as many people as possible enjoy boarding the TARDIS next year to embark upon an exhilarating and sometimes terrifying adventure through time and space.
The Doctor Who Experience is set to open at London's
Olympia
on
20th February 2011
, and then move to its permanent home in Cardiff during 2012. Tickets go on sale from the
website
from the 18th November, with prices ranging from £15-£20.