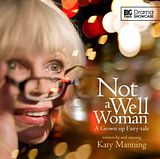 Big Finish
have announced Drama Showcase, a new line of plays made for audio and starring many Doctor Who actors.
The line-up comprises four productions:
Not a Well Woman, written by and starring Katy Manning.
Pulling Faces , written by Helen Goldwyn and starring Louise Jameson, with Helen Goldwyn, David Warwick and Colin Baker. This is an adaptation of Louise's acclaimed one-woman show.
In Conversation with An Acid Bath Murderer, written by Nigel Fairs and starring Nigel Fairs, Louise Jameson and Richard Franklin. This is an adaptation of Nigel's critically admired theatre play.
Unintelligent Design written by and starring Geoffrey Beevers.
Producer David Richardson says
I'm so excited by these plays, They are an opportunity for us to develop new projects with the talent we have already worked with at Big Finish, and they explore some important themes. They're funny and tragic, clever and profound, dark and intelligent.
The season is also available on subscription, with pre-ordered subscription CD copies signed by the main star.
NB: Drama Showcase productions contain adult material and are not suitable for younger listeners.