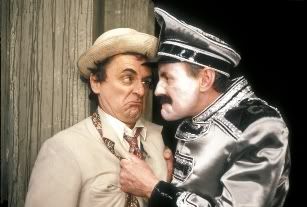 The Seventh Doctor story,
Paradise Towers
is due for DVD release in 2011 according to a
blog
by the story's writer
Stephen Wyatt
.
First shown between 5th October and 26th October 1987 the four part story stars
Sylvester McCoy
as The Doctor with
Bonnie Langford
as Melanie along with guest stars
Richard Briers
as the Chief Caretaker,
Elizabeth Spriggs
as Tabby,
Judy Cornwell
as Maddy and
Howard Cooke
as Pex.
The story was the second story of Season Twenty Four and was directed by
Nicholas Mallett
.
In his blog Wyatt confirmed he has recorded an interview for inclusion on the disc as well as being part of the commentary team.
A novelisation of the story, written by Wyatt, was published by Target Books in December 1988 and it was released on VHS in October 1995.