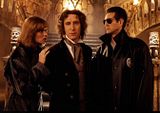 The 1996
TV Movie
will finally get its North American release on
February 8, 2011
.
In
August
we reported that, for the first time, the rights to release the story outside the UK had been obtained by 2|entertain. The feature length episode is the only televised adventure of the Eighth Doctor played by
Paul McGann
.
The story was released in the UK as part of the Revisitions box set. In North America it will be released as a single story on two discs, containing the
same extras
as the UK version.
It has also been confirmed that the Third Doctor story,
The Mutants
, will be released in North America on the same day, February 8, shortly after it's released in the UK.
Both North American covers can be seen at
TV Shows on DVD
.