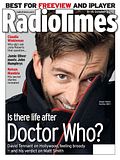 The words
Doctor Who
once more adorn the cover of
Radio Times
this week, along with a picture of Tenth Doctor,
David Tennant
.
The magazine is promoting Tennant's latest venture, playing the lead role in
Single Father
, a four-part drama for BBC One about a man struggling to raise his four children after the death of his wife. Written by
Mick Ford
of
Ashes To Ashes
, the series is set in Glasgow, and tells the story of Dave, a photographer facing the seemingly impossible job of bringing up his four kids alone. Things get even more complicated when he begins to fall in love with Sarah – his wife's best friend.
Tennant was asked about the timing of his departure from Doctor Who.
It felt right to pass the baton on and for it to continue to thrive. I think that was all exactly as I would wish it to be. There's a downside to playing the role, but in my experience it's grossly outweighed by the upside because I loved doing it so much that I wouldn't have missed that opportunity for anything. It was just wonderful and it created many, many more opportunities than it closed down. I think my life is in a very different place and my career is in a very different place to what it was before I did Doctor Who and that is 90 per cent positive.
Tennant was also asked about the recent series and new Doctor,
Matt Smith
I'm very nervous to say anything, because anything I say is turned into some soundbite and used by the Daily Mail as proof that I'm a… Genuinely, I think it's been brilliant. I've loved every second of it. It's a thrill for me to be watching it as a viewer again. I knew Matt was going to be fantastic and he is. He's a great choice and he's knocked it out of the park.