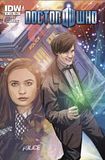 IDW Publishing
have announced their range of Doctor Who Comics will follow the Eleventh Doctor's travels from January 2011. These all-new, full colour adventures will also feature his companions Amy and Rory.
Issue One finds the trio battling holographic spam and 'friending' requests on a planet that is hours from destruction by an alien race. It is penned by writer
Tony Lee
, no newcomer to the Doctor's world having written many of the Tenth Doctor adventures for IDW. Story art is provided by
Andrew Currie
, and cover art by another long-term contributor
Tommy Lee Edwards
. There will also be two incentive covers, one by Eisner Award winner
Mark Buckingham
, and the other by
Kelley Yates
- the latter featuring a gatefold cover opening out to reveal the TARDIS.
Future issues will see plots involving Jack the Ripper, penalty shoot-outs against Vikings and Cybernetic Space Pirate Dinosaurs, plus the return of a classic villain - says Tony Lee:
I could tell you who they are, but I'd have to kill you. Let's just say we've been given special dispensation to use them, and we have a killer story - in all senses of the word!