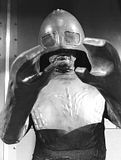 2|entertain have confirmed that the third story in the
Revisitations 2
Box Set will be the Second Doctor Story
The Seeds of Death
.
DVD commissioning editor
Dan Hall
gave the news in an interview with
Radio Free Skaro
. The Seeds of Death stars
Frazer Hines
as Jamie McCrimmon and
Wendy Padbury
as Zoe Heriot alongside
Patrick Troughton
as the Doctor. It was first released on DVD in February 2003.
The story joins
The Carnival of Monsters
with Jon Pertwee and
Resurrection of the Daleks
with Peter Davison, on the box set expected to be released mid 2011.
Hall confirmed that The Resurrection of the Daleks will contain a documentary fronted by Tenth Doctor
David Tennant
(mentioned
here
). He said the story will be released in both the four episode and two episode edition.
He confirmed that the missing Tom Baker Story
Shada
is in production and at present the plan is to release it with another title.
In the wide ranging interview Hall also talked about his plans for the range and his hopes and desires for the remaining classic stories which still have to be released.