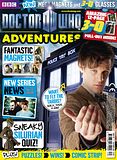 This week's issue of
Doctor Who Adventures
comes with a pair of
3D Glasses
in order to experience the
3D Special
- a twelve page pull-out section portraying favourite monsters in three dimensions!
Also this week, test drive the TARDIS. Explore behind the controls of the Doctor's amazing time and space ship.
And find out what's in store for Sarah Jane and the gang in the sneak preview of the first episode in series four of
The Sarah Jane Adventures
!
Plus: fantastic monster magnets, great jokes and huge puzzle section!
Issue 187 of Doctor Who Adventures magazine is out in the UK today.