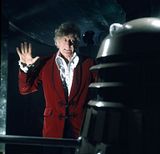 2|entertain have announced that the 1972 Third Doctor story,
Day of the Daleks
, will be released on DVD in 2011.
The announcement was made at
Time and Space
, the DWAS convention in London, where commissioning editor
Dan Hall
confirmed the story would be released with new SFX and Dalek voices.
The story was the first story of Season Nine and was first broadcast between January 1 and January 22, 1972. Alongside Jon Pertwee as The Doctor,
Katy Manning
starts as Jo Grant with
Nicholas Courtney
playing Brigadier Lethbridge-Stewart,
Richard Franklin
as Captain Mike Yates and
John Levene
as Sergeant Benton. Guest stars include
Aubrey Woods
as The Controller,
Anna Barry
as Anat,
Scott Fredericks
as Boaz and
Jean McFarlane
as Miss Paget.
The story was one of four written for the series by
Louis Marks
, who died last month. It was directed by
Paul Bernard
and designed by
David Myerscough-Jones
.
The story was first released on VHS and Betamax in an omnibus format in 1986 and re-released in episodic format in 1994.