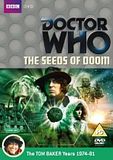 Here is the cover for
The Seeds of Doom
, released on DVD in the United Kingdom on 25th October. Its special features include:
Pod Shock (The making of) 37'14"
Playing in the Green Cathedral (Featurette) 10'02"
So what do you do exactly? (Featurette) 15'35"
Stripped for Action - The Fourth Doctor in comic form 20'17"

Easter Egg 1'13"
Easter Egg 0'08"
Photo Gallery 4'45"
TV Continuity 1'23"
A more detailed description may be found in
our earlier article
.
Doctor Who Magazine has revealed details on the features for January's release of
Meglos
:
Commentary by Lalla Ward (Romana), Christopher Owen (the "Earthling"), John Flanagan (one of the writers), and both music composers Paddy Kingsland and Peter Howell.
Isolated Score from the story.
Meglos Men, a feature on the writers John Flanagan and Andrew McCulloch, with script editor Christopher H. Bidmead.
The Scene Sync Story looks at the pioneering camera technology used in the story.
Jacqueline Hill - A Life in Pictures celebrates the life and career of the actress.
Entropy Explained, a short documentary by Dr Phillip Trowga.

The usual production notes, photo gallery, and PDF materials
Full details in the latest DWM (#426).
BBC Worldwide have also confirmed that the second Doctor Story
The Dominators
will also be released in North America in January as part of the plan to synchronise the release schedule. The Dominators was
released in the UK
last July.